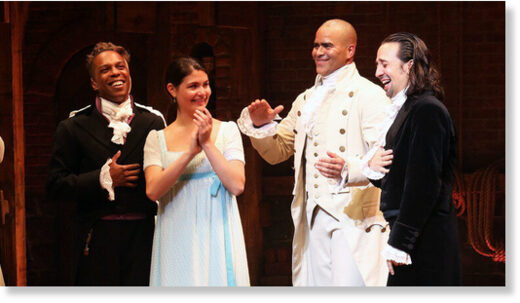 The musical '
Hamilton
' is facing a new wave of criticism because of the slave owning past of the titular character. This is Black Lives Matter's second strike against the creators, who didn't bend the knee fast enough before.
Stop me if you've heard this one before. The showrunners of the Tony Award winning musical '
Hamilton
' have been criticized for (insert controversy here). It seems like Lin Manuel Miranda can't catch a break, or the show in general. Recently, #CancelHamilton gained traction on social media, complaining about the show portraying a man who owned slaves in a positive
light
. This started as the show debuts on Disney Plus.
Barely over a month ago, the show creator swore fealty to Black Lives Matter, having been pressured into apologizing for the 'moral failure' - not because he didn't speak up, but because he didn't speak up quickly enough. To prove his commitment, he listed other current
events
that have not escaped a quick comment.