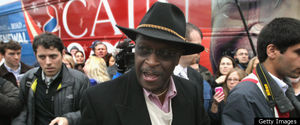 Republican presidential candidate Herman Cain defended his foreign policy knowledge following a disastrous editorial board interview where he struggled to answer a question on Libya.
"I'm not supposed to know anything about foreign policy. Just thought I'd throw that out," he
said
to a
Milwaukee Journal-Sentinel
reporter while on his campaign bus on Monday, the afternoon after his interview with the paper's editorial board. "I want to talk to commanders on the ground. Because you run for president (people say) you need to have the answer. No, you don't! No, you don't! That's not good decision-making."
The former Godfather's Pizza CEO
struggled
to answer a question on Libya for about five minutes. He repeated that he would have "assessed the [Libyan] opposition differently" without saying how exactly his approach would have been different from President Barack Obama's. Cain also gave
confusing answers
on collective bargaining.