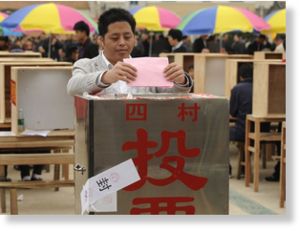 Two leaders of protests last year in a southern Chinese village were elected over the weekend to a village council in balloting that was closely watched for clues of possible liberalization within the Chinese Communist Party.
Although the election in Wukan village was not the first of its kind, the village in Guangdong province has become a test case for how far the party is willing to go to accommodate local grievances and demands for a more accountable government.
The fishing village last year erupted in furor over sale of its farmland to real estate developers, a volatile issue throughout fast-developing rural China.
In Wukan, villagers went further than many others. They ransacked a police station, kicked out their leaders and erected barricades, keeping Chinese authorities out for 10 days in December until a compromise could be negotiated.
The vote held Saturday was part of that compromise. Lin Zuluan, a protest organizer was elected village head and party secretary, and another protester, Yang Semao, was picked as his deputy.