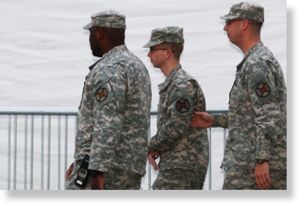 The military pretrial hearing for Pfc. Bradley Manning opened contentiously Friday, with his defense attorney arguing that the presiding officer lacked the impartiality to render fair judgment in a case growing out of the release of a trove of government secrets to WikiLeaks last year.
Manning, 23, could face the death penalty or life in prison if he goes to trial and is found guilty of all charges related to the alleged leaking of hundreds of thousands of secret U.S. documents.
His attorney said Army Lt. Col. Paul Almanza, a reservist who also works for the Justice Department, could not be unbiased, citing that department's ongoing investigation of WikiLeaks co-founder Julian Assange.
"That simple fact alone, without anything else, would cause a reasonable person to say, 'I question your impartiality,' " the attorney, David E. Coombs, told Almanza, who works in the child exploitation unit of the Justice Department.
Almanza, formally known as the investigating officer in the hearing, rejected a request for recusal after considering it during a recess. He said his unit has no involvement in the case or in national security issues.