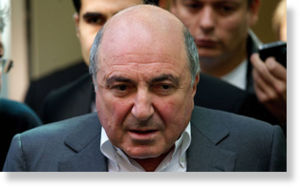 Speculation that Russian oligarch Boris Berezovsky may have taken his own life after losing much of his personal fortune
The Russian oligarch and fierce Kremlin critic Boris Berezovsky has been confirmed dead, prompting speculation that he may have taken his life after losing vast sums from his personal fortune.
The news emerged on a Facebook post that appeared to have been made by his son-in-law Egor Schuppe.
According to the post, Berezovsky was recently depressed and had failed to keep in touch with friends, often choosing to stay at home rather than socialise.
Meanwhile, Aleksandr Dobrovinksy, head of Moscow-based The Alexander Dobrovinsky & Partners law firm, appeared to confirm that the 67-year-old former billionaire had killed himself.
A statement on the lawyer's social network page said: "Just got a call from London. Boris Berezovsky committed suicide. He was a difficult man. A move of disparity? Impossible to live poor? A strike of blows? I am afraid no one will get to know now."
Later, Damian Kudriavtsev, the former chief executive of Kommersant Publishing House was reported to have said that the businessman's death occurred at 11:00am in London.
On his twitter account, Kudriavtsev was reported to have claimed that there were no signs of a violent death.
His death, however, has not been officially confirmed and no official details disclosed.
The news came seven months after Berezovsky lost a $5.6-billion court battle with rival oligarch and Chelsea Football Club owner Roman Abramovich.
Berezovsky had been demanding than £3bn damages - relating to deals done between the pair in Russia. But instead he agreed to pay £35m towards Abramovich's legal costs in the wake of a damning ruling by Judge Mrs Justice Gloster.
The case also left his reputation in tatters, with the Gloster describing Berezovsky as
an "inherently unreliable witness," who was "deliberately dishonest" and viewed truth as a "transitory, flexible concept"
during the highly publicised dispute over the ownership of the profitable oil company Sibneft.
The judge was given no details of Berezovsky's legal bill, but the
Lawyer
magazine said the case is thought to have generated total fees of over £100m.
His financial difficulties were recently exacerbated after his former mistress Elena Gorbunova, 43, claimed Berezovsky owed her $8 million in compensation over the sale of their $40 million residence in Surrey.
Details from the second High Court Battle in January heard how his former partner of 20 years won a freezing order, reported to be $200m, on his assets after they split last year over fears he owed her cash and was in dire financial straits.
The asset freeze was thought to include two luxury properties Berezovsky was allegedly trying to sell in France which, she maintained, were promised to her.
Evidence that the businessman was in serious financial difficulties surfaced with recent reports that the exiled oligarch was attempting to auction off an Andy Warhol limited edition portrait of Soviet leader Vladimir Lenin in the hope of paying off creditors and legal bills.
The 1987 portrait by the Pop Art pioneer has been estimated by Christie's to be worth between $45,000 and $75,000, and is reportedly in excellent condition
Berezovsky left Russia in the late 1990s over a money laundering scandal with Aeroflot airlines and has been the subject of an extradition by Russia while appearing on its most wanted list since 2001 on charges of fraud, money-laundering and attempted violent power takeover.
A Russian court sentenced Berezovsky in absentia for embezzling $2 billion from two major state companies, as well as for fraud and money-laundering.
Moscow has repeatedly requested his extradition although British authorities have not complied.
In 2007 Berezovsky said he had been told to leave England by British police for his own safety after the British security services claimed they had evidence of an assassination plot against him.