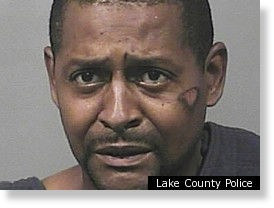 A man was found walking along the inner shoulder of I-65 in Indiana on Sunday afternoon around 2:30 p.m. He was not far from his abandoned white Toyota, which was still in the middle lane of the interstate. Indiana Police State Trooper Ricky Rayner found the car, and then he quickly spotted the man.
"The man was marching like a drum major, holding the sword, moving it up and down in rhythm with his marching cadence," State Police said.
Nicknamed the "Shirtless Samurai," the man was wearing only a pair of shorts and slip-on shoes, carrying a 35-inch samurai sword. He was later identified as 42-year-old Cicero resident Bryon Womack.