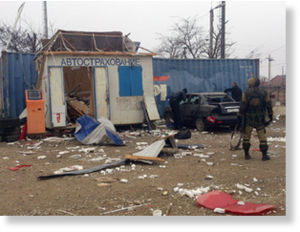 Four police officers have been killed and five others were injured when a vehicle exploded at a road police post in Russia's Republic of Dagestan. The explosion happened during a routine road inspection.
The initial blast killed three policemen, while the fourth died from his injuries in a hospital hours later. One person remains unaccounted for. The body of the suicide bomber was so badly damaged by the explosion that "nothing's left of him," a source told Interfax news agency.
Police estimated the yield of the explosive device to be about 100 kilograms of TNT. The blast left a crater 1.5 meters deep and 4 meters in diameter, and badly damaged a checkpoint building.
Hours after the explosion, local security forces spotted a gang of militants that may have been connected to the suicide bombing. The gang was cornered near a local village.
Six militants were eliminated following the attack, RIA Novosti reported.