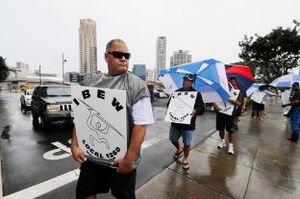 Hawaiian Electric Co. used managers and outside contractors to repair storm-damaged power lines yesterday after its unionized work force walked off the job over a contract dispute.
HECO executives said the strike would slow efforts to restore service to about 8,000 Oahu homes and businesses, mostly in the Ewa Beach area, that were without power last night.
"We do have management crews out there to see what we can do about the Ewa Beach situation in particular this evening, and we will do our best to restore as much of that service as possible," said Robbie Alm, HECO executive vice president. "I don't want to guarantee that, obviously, we don't have our normal full crews out there."
About 1,300 HECO workers who are members of the International Brotherhood of Electrical Workers Local 1260 went on strike at 3:30 p.m. yesterday and began walking picket lines on Oahu, the Big Island and in Maui County.