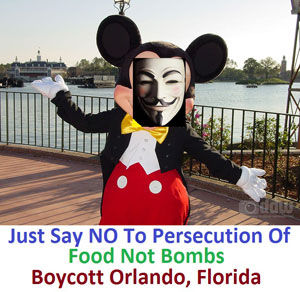 Hacker activists with the protest group "Anonymous" have in recent weeks taken down over a half-dozen major Orlando, Florida-based websites and spammed tens of thousands of unsolicited faxes all over the city as a response to an ordinance that prohibits feeding homeless people in public parks.
In a release Friday on the progress of what they called "Operation Orlando," the group insisted that its efforts were in no way connected to the activists with Food Not Bombs (FNB), who've been
arrested for feeding the homeless
in a city park.
Keith McHenry, who helped found the group 30 years ago, was arrested last week and is still imprisoned. McHenry's view is that food is a right, not a privilege, so he and the group refused to abide by the law.