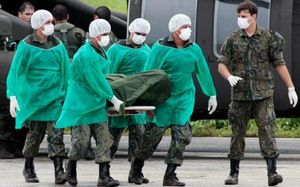 The identification of bodies from Air France flight 447 that disappeared out of the sky en route from Brazil to France may hold vital clues to the tragedy that claimed 228 lives.
Investigators believe that comparing where the passengers were sitting and where their bodies were found in the ocean could provide information about when the doomed aircraft broke up after vanishing over the Atlantic on May 31.
A desperate race against time and worsening weather is on to find the plane's black boxes, the best hope of establishing exactly what went wrong, but in their absence experts are having to piece together clues from the victims and debris found in the sea.
As the search continues the family of one of the victims has filed a civil action in order to force investigators to hand over information about the crash.
Maître Sophie Bottai, representing the parents, brother and girlfriend of an unnamed 38-year-old passenger from Paris, said they "had the feeling that a part of the truth was not being told".
She added: "Given the clear filtering of information, certain families of victims of the crash of flight AF447 feel that the whole truth has not been told on the subject.
"We want simple answers to simple questions; for example why was there such a delay between the last signal from the plane and the moment the authorities raised the alarm."