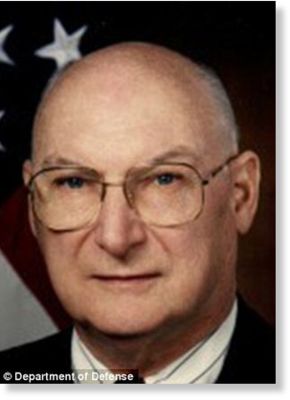 Somewhere inside the Pentagon sits a notoriously tight-lipped man whose words Defense Department top brass take as gospel and whose mysterious office exists to predict the future. Andrew W. Marshall, 92, is nicknamed Yoda both for his bald head and uncanny ability to foresee advancements in military technology and warfare strategy decades in advance and has done so for the Office of Net Assessment since Richard Nixon gave his the agency's top job back in 1973.
And though Marshall has accurately predicted the fall of the Soviet Union, the rise of China, and the advent of drone warfare, and is credited with helping end the Cold War, the 'Pentagon's futurist-in-chief' could see his entire office axed if some bureaucrats get their way.
For the last twenty years, Yoda has been using the force to contemplate scenarios of an American war with China, a nation whose military spending could outpace our own within 20 years. As for predictions, he's said that performance enhancing drugs will one day very soon be just as important as technological developments.
'People who are connected with neural pharmacology tell me that new classes of drugs will be available relatively shortly, certainly within the decade,' Marshall told
Wired
in an extremely rare interview from 2003. Marshall has given very few interviews over the years and very rarely allows himself to be quoted in the press.
'One of the people I talk to jokes that a future intelligence problem is going to be knowing what drugs the other guys are on,' he said.