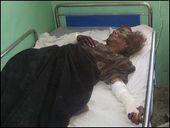 US air strikes in Afghanistan on Tuesday killed dozens of civilians including women and children, officials from the Red Cross have said.
Afghan officials in the western province of Farah told the BBC
as many as 100 civilians might have died.
The civilians were said to have been hit while sheltering from fighting.
A US military team has been sent to Farah to investigate and Afghan President Hamid Karzai has ordered an Afghan inquiry.