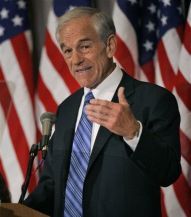 GOP Presidential candidate Rep. Ron Paul (R-Texas) on Tuesday warned of too much "dictatorship in Washington D.C." while on a campaign stop in Mason City, Iowa.
"We're not on the verge of having a king, but we are on the verge of having way too much dictatorship in Washington, D.C.," Paul said, comparing the U.S.'s current situation to a Biblical tale in which the ancient Israelites demanded, against their own good, that a king rule their land instead of God.
"Our rights come from our creator, not our government," added Paul according to the
The Waterloo-Cedar Falls Courier
.
Paul, who announced last month that he will run for president for the third time, faces an uphill battle as many Americans consider his positions to be on the far fringe of the right-wing.
Paul, however, noted that he had recently observed a seismic shift in American politics.
"The mainstream is changing," said Paul. "The mainstream wants balanced budgets, sound government and personal liberties --- that is mainstream."
"The shift is in our direction --- obeying the Constitution for a change," he said.