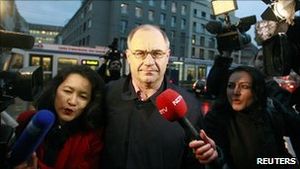 A former Swiss banker who said he gave Wikileaks details of rich tax evaders has been found guilty of breaching Switzerland's strict bank secrecy laws.
A judge at Zurich's Regional Court did so even though the leaked documents referred to accounts in the Cayman Islands.
Judge Sebastian Aeppli fined Rudolf Elmer more than 6,000 Swiss francs ($6,250; £4,000).
But he rejected prosecution demands to give Elmer an eight-month prison sentence.