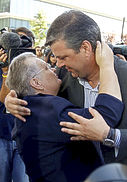 Lisbon --A Portuguese court jailed six people for up to 18 years on Friday for abusing children from a state orphanage, in a six-year court case that has shocked the nation.
The defendants, including a well-known television presenter, a former diplomat and two doctors, received sentences of between just under six years and 18 years for their participation in abuse of children living at the Casa Pia state home. One defendant, who had been linked to a house where abuse took place, was acquitted.
The ruling was hailed as a victory by those fighting for children's rights in the country. "The stories that I heard were the most terrible of my life," said Catalina Pestana, who was put in charge of Casa Pia after the crimes were first reported in 2002. "I think Portugal, the country, all of us, won a lot from this process. Now, when a child accuses an adult, nobody will look with the same lack of attention that they did for many years."
In the packed courtroom, judges Lopes Barata and Ester Santos read out the findings of the investigation, including how Carlos Silvino, a former driver at Casa Pia, had sexually abused under-aged boys in the orphanage's garage and then paid them. Silvino, who had confessed to some of the crimes, received the harshest sentence of 18 years.
The others say they are innocent and will appeal. Carlos Cruz, once Portugal's most popular television presenters, was sentenced to seven years in prison.
"There is no proof of my guilt,"
Cruz told journalists, pledging to appeal the decision.
"This brings back memories of Portugal under dictatorship."

Comment: You can always count on psychopaths to lie, even in the face of overwhelming evidence...


"These men have to be condemned, they committed barbaric crimes against humanity," Pedro Namora, a former pupil at Casa Pia and now a lawyer, told reporters.
Many observers say the trial has shown up the slowness and inefficiency of Portuguese courts, especially in handling a trial on this scale--
920 witnesses were heard in 460 court sessions
.
"I had the feeling that more defendants' chairs should be occupied in this court,"
Namora said.
After years of being accused of lying and fabricating the stories, the victims welcomed the outcome. "After today, a lot of things change for me," said Francisco Guerra, 25, one of the victims. "Now I continue to have my dignity and I can look ahead."
Five of the 32 victims, now in their early 20s, were in the courtroom with their lawyers. Another victim, sitting in the public section, cried and shook nervously during the session.