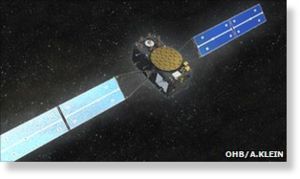 The chief executive of one of Germany's leading space companies has lost his job because of the Wikileaks saga.
OHB-System's Berry Smutny was reported in a cable to have told US diplomats that Europe's Galileo satellite-navigation project was a "stupid idea".
Bremen-based OHB-System is part of the consortium that will build Galileo's first 14 operational spacecraft.
Although Mr Smutny has denied the cable's contents, OHB's board has decided to remove him from his post.
A company spokesman told BBC News that Mr Smutny had left OHB-System with immediate effect.
A statement from OHB-System on Monday said its supervisory board had "passed a unanimous resolution to revoke Mr Smutny's appointment", adding that it "disapproves these conversations and the quotes attributed to Mr Smutny".
Controversial project
Berry Smutny was alleged to have told diplomats at a meeting in Berlin in October 2009 that Galileo, a flagship space programme of the EU, was a waste of taxpayers' money.
The cable, which was published by the Norwegian daily Aftenposten last Thursday, quoted the OHB-System chief as saying, "I think Galileo is a stupid idea that primarily serves French interests", and, in particular, French military interests.