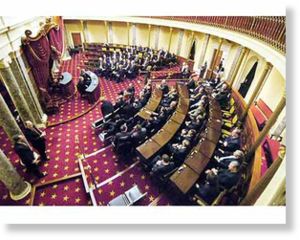 Unanimously-approved bill calls on President Obama to consider suspending assistance if Palestinians insist on UN bid, Fatah-Hamas unity deal.
The US Senate approved a bill Wednesday that calls for suspension of American aid to the Palestinian Authority if it insists on carrying out a plan to gain UN recognition for its
statehood declaration
in September.
The bill was approved by all 89 senators present. Its initiators are the Jewish and Democratic Senator Ben Cardin of Maryland and Republican Senator Susan Collins of Maine.
It stipulates that the Senate opposes "any attempt to establish or seek recognition of a Palestinian state outside of an agreement negotiated between leaders in Israel and the Palestinians".
Cardin explained that the Senate has conveyed a clear message to the international community with the bill, which states that UN recognition of a Palestinian state at this stage does not promote peace. An accord is achievable through negotiations alone, he said.
The bill also "urges the President to consider suspending assistance to the Palestinian Authority pending a review of the unity agreement between Fatah and Hamas".