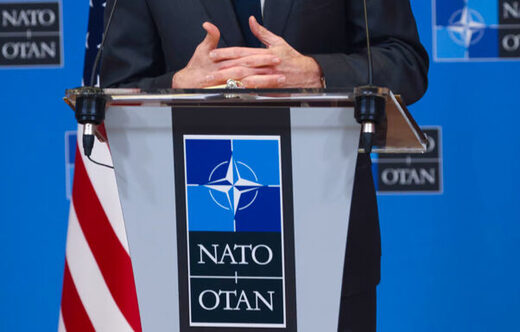 The organization is the heir to the throne that was vacated after Nazi Germany's defeat.
The foreign ministers of the NATO military alliance met this week for a summit in the Romanian capital Bucharest for what was a celebration of the bloc's expansion. The anti-Russia rhetoric and hostility were also effervescent. "Russia does not have a veto,"
crowed
the delegates who swore to "not back down" in supplying even more deadly weaponry to Ukraine in order to strike Russia's heartlands.
It's astounding how such ghoulish warmongering can be projected as upholding international law, democracy and human rights.
The North Atlantic Treaty Organization was formed in 1949 and arguably marked the initiation of the Cold War
when the world was demarcated into a U.S.-led camp and the Soviet Union.
Remarkably, only four years prior, those nations were
declared allies in the defeat of Nazi Germany.
Thus, within a metaphorical blink of an eye, the Soviet Union would be designated as the "new enemy". And that was even while the Soviet people were still grieving up to 30 million killed during the war against the Nazi Third Reich. The bloodlust is shocking but revealing.