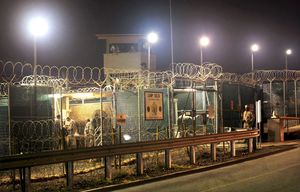 Kafkaesque Machinery of Suspicion
The US prison at Guantanamo houses the worst of the worst of international jihad. But as the detainee assessments recently made public by WikiLeaks show, it is a description that can be applied to US evidence gathering as well.
There was a champagne brunch at the US military's Bayview Restaurant on Easter Sunday -- $14.95 a person, with a view of the bay included. Before the brunch, the soldiers' families met for an Easter egg hunt on the golf course, near the white officers' houses with their manicured front lawns. Inflatable castles were set up for the children.
On weekends like this, Guantanamo looks relatively normal. Residents can take snorkeling lessons or attend a picnic on Windmill Beach, which, like the 10 other beaches on the base, is equipped with volleyball nets, showers and barbecue stations.
It is a place that has become a symbol worldwide for the failure of a modern constitutional state -- and its weekend activities are reminiscent of a Mediterranean resort hotel. The military base has one of the best funded programs for "Morale, Recreation and the Common Good," including a range of activities more commonly found at a Club Med, like Pilates and belly-dancing lessons, angling, paintball and Ironman competitions.