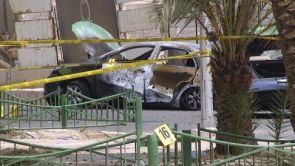 5 Grad rockets hit Red Sea port resorts of Israel and Jordan on Monday killing a Jordanian civilian; Israel, Egypt blame Hamas for attack.
The militant Palestinian group Hamas is alleging that
Israel fired the barrage of rockets that hit the Red Sea port resorts of Israel and Jordan
earlier this week, killing one Jordanian civilian, as a means to justify another assault on the Gaza Strip.
The Soviet-style Grad rockets crashed into the sea near Eilat and killed a taxi driver in Aqaba on Monday, in the second such attack this year. Hamas has denied having firing the projectiles.
Egyptian officials had said following the rocket attack that the salvo was fired by Hamas operatives from Egypt's Sinai peninsula. Prime Minister Benjamin Netanyahu echoed the Egyptian conclusion, blaming Hamas for the rocket attack.