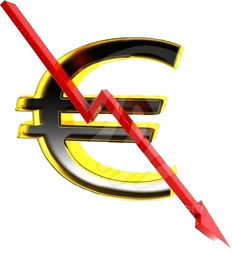 Doubtful it stood, as two spent swimmers that do cling together, and choke their art.

- Shakespeare, Macbeth
The Greek bailout was supposed to be an isolated case, a test of the EU's ability to quarantine an infected member, preventing it from spreading "debt contagion."
But that was before Ireland failed. Ireland was the
poster child
for how to conduct a successful austerity program. Unlike the Greeks, who were considered profligate spendthrifts, the Irish did everything their creditors asked. The people sacrificed to pay for the excesses of their banks, but still the effort failed. Ireland was the second domino to fall to an IMF/EU bailout. On December 17, Moody's Investors Service rewarded it for voting to accept the "rescue" package with a five-notch credit
downgrade
, from AA2 to BAA1, with warnings that further downgrades could follow.
Spain is
rumored
to be the next domino poised to fall. If it falls, it could bring down the EU.