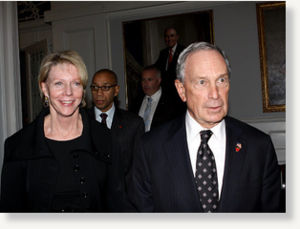 Now that's Black humor.
Less than two weeks into her new gig, Schools Chancellor Cathie Black has riled parents and public officials by jokingly suggesting that "birth control" was the solution to school overcrowding.
The off-color quip came in response to concerns by public-school dad Eric Greenleaf, who said at a meeting of parents and officials at state Assembly Speaker Sheldon Silver's downtown office that there will be "huge shortages" of classroom space in lower Manhattan in coming years.
"Could we just have some birth control for a while?" Black cracked. "It could really help us all out a lot."
The public-service novice, who has spent her entire career in media and publishing, also dropped jaws at the meeting by likening her task of satisfying space-crunch concerns in every neighborhood to making "many Sophie's Choices" -- a reference to the book in which a mother in the Auschwitz death camp is forced to decide which of her two children will live.