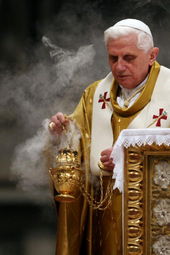 When Pope John Paul II was still living in Poland as Cardinal Karol Wojtyła, he claimed that the security police would accuse priests of sexual abuse just to hassle and discredit them. (
New York Times
, 3/28/10). For Wojtyła, the Polish pedophilia problem was nothing more than a Communist plot to smear the church.
By the early 1980s, Wojtyła, now ensconced in Rome as Pope John Paul II, treated all stories about pedophile clergy with dismissive aplomb, as little more than slander directed against the church. That remained his stance for the next twenty years.
Today in post-communist Poland, clerical abuse cases have been slowly surfacing, very slowly. Writing in the leading daily Gazeta Wyborcza, a middle-aged man reported having been sexually abused as a child by a priest. He acknowledged however that Poland was not prepared to deal with such transgressions. "It's still too early. . . . Can you imagine what life would look like if an inhabitant of a small town or village decided to talk? I can already see the committees of defense for the accused priests."
While church pedophiles may still enjoy a safe haven in Poland and other countries where the clergy are above challenge, things are breaking wide open elsewhere. Today we are awash in a sludge of revelations spanning whole countries and continents, going back decades---or as some historians say---going back centuries. Only in the last few weeks has the church shown signs of cooperating with civil authorities. Here is the story.