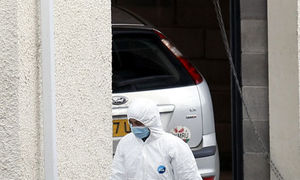 Police say bomb found in van on main Belfast to Dublin road could have resulted in huge devastation and loss of life
Dissident republicans who prepared a 500lb (227kg) van bomb risked causing an Omagh-style massacre, politicians in Northern Ireland have said.
Detectives believe the bomb, found at an underpass near the border on the main Belfast to Dublin road, may have been destined for a town centre attack.
29 people were killed and 220 were injured in a bomb attack in the centre of Omagh in August 1998.
While it is believed the presence of a police checkpoint forced the latest bombers to abandon the vehicle, hundreds of motorists drove past the device unaware of the danger after traffic cones and warning signs had been removed, and even driven over, by others on the road.
The blue Ford transit van, stolen in Maynooth outside Dublin in January and carrying false Donegal registration plates, was found near Newry and contained a wheelie bin packed with 500lbs of homemade explosives.