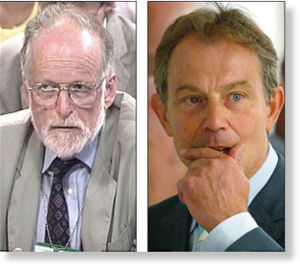 Fresh doubts have been raised over how Dr David Kelly died after police admitted no fingerprints were found on the packs of pills he supposedly overdosed on.
The public inquiry into Dr Kelly's death found the weapons expert killed himself by slashing his wrist with a pruning knife and taking 'an excess amount of co-proxamol tablets'.
Three blister packs of the painkiller, each able to hold ten pills, were retrieved from Dr Kelly's coat pocket when his body was found in woods near his home.
Only one tablet remained, leading his post mortem examination report to state he may have taken up to 29 pills.
Co-proxamol ingestion is listed as a cause of death on his death certificate.
But Thames Valley Police has now revealed that when it tested two of the blister packs for fingerprints there were 'none recovered'.
The development is doubly significant because police have already said the knife which Dr Kelly is said to have used to cut his wrist did not have fingerprints on - nor did an open bottle of water found beside his body.