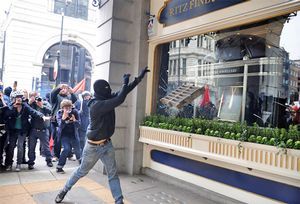 MPs are demanding to know why the police arrested and charged so many peaceful protesters at Saturday's anti-cuts demonstration, while letting off those who attacked shops and banks and damaged monuments.
Demonstrators who took part in the sit-in at luxury grocer Fortnum & Mason, organised by campaign group UK Uncut, are bearing the brunt of police and prosecutors' attentions.
The Metropolitan Police detained 201 people on Saturday, as they battled break-away factions of activists targeting shops in London's West End. A total of 149 have been charged in connection with the protests - 138 of them (94 per cent) face criminal charges of aggravated trespass at the high-end store, with only 11 charged for the more violent protests elsewhere in the capital, including serious disturbances in the West End during which police were pelted with ammonia-filled lightbulbs.
Campaigners insist no major criminal damage was committed inside the store, whose management said the only physical losses from the protest consisted of the theft of an unspecified number of bottles of wine and champagne. The company said the closure of its business on Saturday afternoon had cost it £80,000 in lost trade.