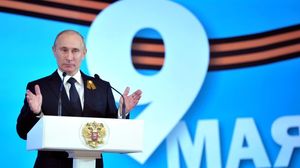 Russia's newly-inaugurated President Vladimir Putin has pulled out of the Group of Eight summit in Maryland, US, and ice-breaker talks with US President Barack Obama next week, the Kremlin says.
Raising new questions about Moscow-Washington ties, Putin, who took the oath as the new Russian leader on Monday, informed Obama of his decision during a telephone call on Wednesday.
He noted the need to stay in Moscow to finalize cabinet appointments in the new Russian government, citing he will send Prime Minister Dmitry Medvedev in his place.
Putin had been expected at the G8 summit at Camp David to hold talks with the US president in a first test of whether the "reset" policy between the Kremlin and the White House will survive his return to the presidency.
The gathering of the G8 at Camp David is expected on May 18-19 in the Maryland countryside north of Washington.
Putin's decision not to attend the meeting comes a week after Russian Defense Minister Anatoly Serdyukov said that talks between the United States and Russia over the US-backed European missile system have reached a dead-end.
Moscow has repeatedly objected to the move, saying the deployment undermines Russia's sovereignty.
Russia has called for sharing control of the missile system, a request rejected by the US.