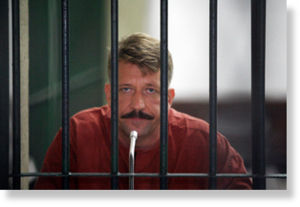 Investigative journalist and author of Shadow Masters, Daniel Estulin delivers an extraordinary and captivating exclusive interview with Dimitri Khalezov.
Dimitri Khalezov is a former Soviet commissioned officer of the "military unit 46179", otherwise known as "the Special Control Service" of the 12th Chief Directorate of the Defense Ministry of the Soviet Union. He has agreed to this exclusive interview and it is our pleasure to be able to offer readers of
www.danielestulin.com
another quality first. Dimitri is a crucial piece of the puzzle in the case of Victor Bout. It is safe to say that had it not been for Dimitri´s dedication to helping Mr. Bout, his incorruptibility and brilliance, Victor, might very well have found himself today behind bars in some high-profile American prison. Dimitri is the first man to see Mr. Bout after his world famous arrest in Bangkok and he is the man who has given more headaches to the United States government than anyone else in the world.
Furthermore, Dimitri Khalezov is the first person in the world to have uncovered the true reasons for the United States government's dogged pursuit of Victor Bout. Mr. Bout´s arrest is directly linked to 9/11, and Mr. Khalezov, because of his unique vantage point as a former member of the Soviet "atomic" and later "nuclear" intelligence says that he knew about the in-built so-called "emergency nuclear demolitions scheme" of the Twin Towers as long back as early 1980´s, while serving in the Soviet Special Control Service.