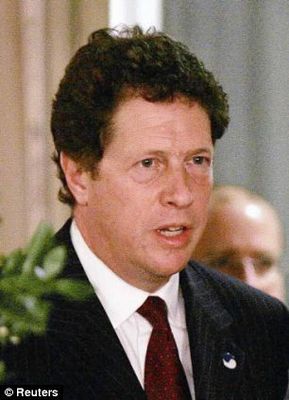 Sir Nigel Sheinwald showed 'profound interest' in Saif Gaddafi's studies
Colonel Gaddafi's son was given help with his 'dodgy' PhD thesis by Britain's ambassador to the United States.
Last night's extraordinary revelation provides further evidence of the close links between the Blair government and the Libyan tyrant's murderous regime.
His son Saif, 38, has become notorious for tirades and threats against Libyan rebels.
The doctorate awarded him by the London School of Economics was already thought suspect because he followed it with a £1.5million donation.
And now the
Mail
has learnt that Sir Nigel Sheinwald, who was handed his Washington post by Tony Blair, offered Gaddafi junior 'active assistance' with the 429-page work.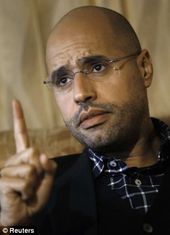 Sir Nigel was at Mr Blair's side for the first meeting with Colonel Gaddafi in 2007 that resulted in a massive BP oil contract. When the Mail asked him whether he had had a hand in Saif's PhD his staff replied on his behalf that the idea was 'ludicrous'.
However, a senior source at the London School of Economics confirmed that Sir Nigel had shown a 'profound interest' in Saif's academic studies and offered 'active assistance' in his work.