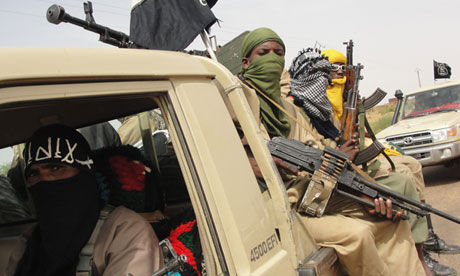 President François Hollande responds to advance south by Islamist rebels by sending armed forces to aid Malian troops.
French troops have begun military operations including air strikes in Mali to contain Islamist groups which are continuing to clash with the army in a fight for control of the desert north of the west African country.
François Hollande announced on Friday night that French armed forces had gone to the aid of Malian troops on the ground during the afternoon. The French president said Mali was facing a "terrorist aggression" of which "the whole world now knows its brutality and fanaticism".
The foreign minister, Laurent Fabius, said France's air force carried out an air strike in Mali on Friday as it supported government forces.
The French military intervention came as the Islamists who control northern Mali advanced ever closer to the furthest town still under government control. Al-Qaida-linked groups have controlled northern Mali since the army deserted the military campaign against Tuareg and Islamist rebels, which was followed by a military coup last March. Since the coup, the country, where France was once the colonial power, has been thrown into disarray. Western powers have voiced fears that an alliance of al-Qaida-linked militants that seized the northern two-thirds of Mali last April would seek to use the vast desert zone as a launchpad for international attacks.
France said it was acting with the backing of west African states. It had responded to an appeal for help from Mali's embattled president, Dioncounda Traoré, after Islamists seized the town of Konna in the centre of the country, about 375 miles north-east of the capital, Bamako.