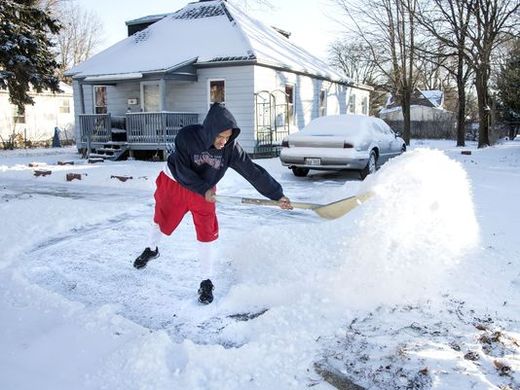 Millions of consumers who've seen skyrocketing utility bills are likely to see another spike in January and February
First came the deep cold, then sharply higher heating bills.
Bone-chilling temperatures have rattled consumers across the nation since mid-December. Bitter cold is likely to linger over the Northeast and Midwest, and unseasonably low temperatures are forecast for the Southeast, so millions of consumers who've seen skyrocketing utility bills are likely to see another spike in January and February.
The Energy Information Administration predicted that more than 90% of the nation's 116 million homes would have higher heating bills this winter, projecting rises of 2% (for those heating with electricity) to 13% (natural gas). Homes heated with propane were expected to spend 9% more than last year, while those using heating oil were expected to get a 2% price break. Those estimates came in October, before two-decade-low temperatures, rising demand and lower energy stockpiles gripped much of the nation.
Revised EIA estimates from earlier this month peg some home heating bills rising as much as 23.5% in the Midwest. But even those estimates may be too low
.
"I don't think they factored in the polar vortex or what's happening now,'' says Steve Schork of energy markets tracker The
Schork Report
, who says extended cold temperatures could push winter utility bills to their highest levels since 2008.
Friday, the price of natural gas - used to heat more than half the nation's homes - jumped to its highest levels since 2010. It's jumped nearly 30% this month alone. Propane, the primary heat source in 6 million homes and 2 million businesses, is also soaring, and in some tight Midwest markets, is trading at nearly $5 a gallon.
For some, it's not just rising costs, but getting tanks refilled. Stronger exports, higher agricultural demand and supply-chain woes are depleting stockpiles and driving record prices, says Roy Willis, CEO of the Propane Education and Research Council.
"It's not only unprecedented, it's inexplicable, given that we're producing more propane than at any time in my 15 years (at PERC).
It's been a perfect storm of issues, and we could have two more solid months of demand
,'' Willis says.
Rising utility bills could pinch consumer spending.
"It's been hard enough for households to keep warm. But I'm afraid they're going to get another punch a month from now, when their heating bills show up,'' says Sue Tierney, energy and environmental economist at Boston-based Analysis Group. "All of those furnaces working around the clock have increased demand for natural gas, contributing to price spikes, especially in the Northeast. That's a tough combination for households on fixed budgets. Some of the numbers, especially for low-income people, could be staggering.''
In normally winter-temperate regions such as Texas, many consumers who typically don't have to turn up the thermostat already are seeing red. About 30% of the state's residents use electric heat.
"This time last year, I was spending about $45 to $50 a month. This year, the bill has almost tripled,'' says computer systems engineer Lewej Whitelow, whose Dallas apartment is heated by electricity.
Reliant Energy, which supplies about 1.5 million customers in Dallas and Houston, says "heating degree'' days for the region through mid-January - the average day people turn up the heat - have climbed 40% to 50% over last winter. Moreover, electric heaters use three times as much energy as air conditioners, says Bill Clayton, vice president of customer care operations.
In Iowa, where 15% of residents use propane as their prime source of heat, officials fret over rising bills. About 15% of state households use propane for their prime source of heat. "Families can't budget for double, triple the cost," says Harold Hommes, a market analyst with the Iowa Department of Agriculture,
Iowans owed $34.9 million on over 283,000 utility bill accounts in December. That's the most since 1999, when Jerry McKim, who heads the state's energy assistance program. began tracking. "It doesn't bode well, particularly since the January bills haven't hit yet," he said. "I wouldn't be surprised if January's bills are a record for any month."
In Wisconsin, where temperatures have been 33% colder through mid-January than last year, utility bills are also up. Wisconsin Public Service expects bills for 321,000 natural gas customers to rise. "So far, customers could easily be spending $50, $80 more than last year," spokesman Kerry Spees says.
Elsewhere, consumers hope to ride the winter chill out.
Naomi Wright, a Department of Justice administrative staffer from Waldorf, Md., says her latest utility bill nearly doubled to $95, but there's not much she can do about it. "
I'm not going to be cold, I'm not going to suffer
,'' she says. "I need my heat."
Contributing: Donnelle Eller; The Des Moines Register; Richard Ryman, Green Bay Press-Gazette.