Blind eye allegedly turned toward smuggling, trade, financial flow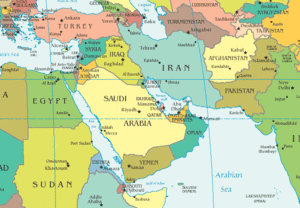 When President Obama announced last month that he was barring a Baghdad bank from any dealings with the American banking system, it was a rare acknowledgment of a delicate problem facing the administration in a country that American troops just left: for months, Iraq has been helping Iran skirt economic sanctions imposed on Tehran because of its [
alleged
] nuclear program.
The little-known bank singled out by the United States, the Elaf Islamic Bank, is only part of a network of financial institutions and oil-smuggling operations that, according to current and former American and Iraqi government officials and experts on the Iraqi banking sector, has provided Iran with a crucial flow of dollars at a time when sanctions are squeezing its economy.
The Obama administration is not eager for a public showdown with the government of Prime Minister Nuri Kamal al-Maliki over Iran just eight months after the last American troops withdrew from Baghdad.
Still, the administration has held private talks with Iraqi officials to complain about specific instances of financial and logistical ties between the countries, officials say, although they do not regard all trade between them as illegal or, as in the case of smuggling, as something completely new. In one recent instance, when American officials learned that the Iraqi government was aiding the Iranians by allowing them to use Iraqi airspace to ferry supplies to Syria, Mr. Obama called Mr. Maliki to complain. The Iranian planes flew another route.