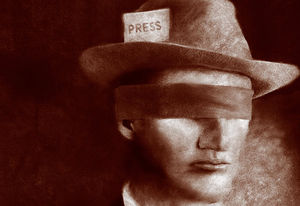 The major media overlooked Communist spies and Madoff's fraud. What are they missing today?
In mid-March, the
Wall Street Journal
carried
a long discussion of the origins of the Bretton Woods system
, the international financial framework that governed the Western world for decades after World War II. A photo showed the two individuals who negotiated that agreement. Britain was represented by John Maynard Keynes, a towering economic figure of that era. America's representative was Harry Dexter White, assistant secretary of the Treasury and long a central architect of American economic policy, given that his nominal superior, Secretary Henry Morgenthau Jr., was a gentleman farmer with no background in finance. White was also a Communist agent.
Such a situation was hardly unique in American government during the 1930s and 1940s. For example, when a dying Franklin Roosevelt negotiated the outlines of postwar Europe with Joseph Stalin at the 1945 Yalta summit, one of his important advisors was Alger Hiss, a State Department official whose primary loyalty was to the Soviet side. Over the last 20 years, John Earl Haynes, Harvey Klehr, and other scholars have conclusively established that many dozens or even hundreds of Soviet agents once honeycombed the key policy staffs and nuclear research facilities of our federal government, constituting a total presence perhaps approaching the scale suggested by Sen. Joseph McCarthy, whose often unsubstantiated charges tended to damage the credibility of his position.