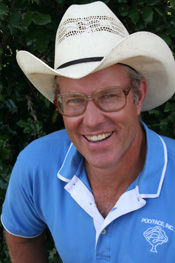 Everything I want to do is illegal. As if a highly bureaucratic regulatory system was not already in place, 9/11 fueled renewed acceleration to eliminate freedom from the countryside. Every time a letter arrives in the mail from a federal or state agriculture department my heart jumps like I just got sent to the principal's office.
And it doesn't stop with agriculture bureaucrats. It includes all sorts of government agencies, from zoning, to taxing, to food inspectors. These agencies are the ultimate extension of a disconnected, Greco-Roman, Western, egocentric, compartmentalized, reductionist, fragmented, linear thought process.
On-farm Processing
I want to dress my beef and pork on the farm where I've coddled and raised it. But zoning laws prohibit slaughterhouses on agricultural land. For crying out loud, what makes more holistic sense than to put abattoirs where the animals are? But no, in the wisdom of Western disconnected thinking, abattoirs are massive centralized facilities visited daily by a steady stream of tractor trailers and illegal alien workers.
But what about dressing a couple of animals a year in the backyard? How can that be compared to a ConAgra or Tyson facility? In the eyes of the government, the two are one and the same. Every T-bone steak has to be wrapped in a half-million dollar facility so that it can be sold to your neighbor. The fact that I can do it on my own farm more cleanly, more responsibly, more humanely, more efficiently, and in a more environmentally friendly manner doesn't matter to the government agents who walk around with big badges on their jackets and wheelbarrow-sized regulations tucked under their arms.
OK, so I take my animals and load them onto a trailer for the first time in their life to send them up the already clogged interstate to the abattoir to await their appointed hour with a shed full of animals of dubious extraction. They are dressed by people wearing long coats with deep pockets with whom I cannot even communicate. The carcasses hang in a cooler alongside others that were not similarly cared for in life. After the animals are processed, I return to the facility hoping to retrieve my meat.
When I return home to sell these delectable packages, the county zoning ordinance says that this is a manufactured product because it exited the farm and was reimported as a value-added product, thereby throwing our farm into the Wal-Mart category, another prohibition in agricultural areas. Just so you understand this, remember that an on-farm abattoir was illegal, so I took the animals to a legal abattoir, but now the selling of said products in an on-farm store is illegal.