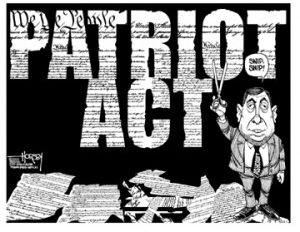 9/11 Whistleblower indicted on the Patriot Act
I confess that since November I've been holding my breath, watching the clock for how long Tea Party newcomers could hold out against the entrenched Republican elite on Capitol Hill. Collapse was inevitable, however I admit to feeling bitterly surprised at how rapidly they have thrown in the towel.
For the record, most of the Tea Party quit their principles of liberty on February 14, 2011 - 20 days into the new Congress - when Tea Party leaders abruptly abandoned their opposition to the Patriot Act and voted to extend intrusive domestic surveillance, wire tapping and warrantless searches of American citizens. In so doing, they exposed the fraud of their soaring campaign promises to defend the liberty of ordinary Americans, and fight government intrusions on freedom. All those wide eyed speeches that flowed with such thrilling devotions, all of it proved to be self-aggrandizing lies.
The Tea Party didn't even put up a fight. Briefly they rejected a sneak attack to renew three surveillance clauses of the Patriot Act on a suspension vote. That filled my heart with hope. One push from the Republican elite, however and they went down with a loud thud.
My disappointment is particularly acute. Rather notoriously, I am distinguished as the second non-Arab American to face indictment on the Patriot Act, after Jose Padilla.
My status was pretty close to an enemy non-combatant. One would presume that I must have joined some terrorist conspiracy? Or engaged in some brutal act of sedition, such as stock piling weapons and munitions to overthrow those crooks in Congress?
You would be wrong. I got indicted for protesting the War in Iraq. My crime was delivering a warm-hearted letter to my second cousin White House Chief of Staff, Andy Card, which correctly outlined the consequences of War. Suspiciously, I had been one of the very few Assets covering the Iraqi Embassy at the United Nations for seven years. Thus, I was personally acquainted with the truth about Pre-War Intelligence, which differs remarkably from the story invented by GOP leaders on Capitol Hill.