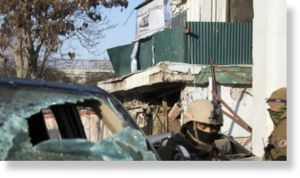 Afghanistan's President Hamid Karzai suspects that Washington has been undermining the government in Kabul through conducting 'insurgent-style' attacks, a report says.
The
Washington Post
quoted a senior Afghan presidential palace official as saying that President Karzai has provided a list of several attacks, in which he says Washington may have been involved, including the recent bloody assault on a Lebanese restaurant in Kabul, where over 20 people, including 13 foreigners, were killed.
The January 17 bombing and shooting attack on the restaurant was attributed to the Taliban militant group, though Karzai said it is one of the many attacks that may have been
orchestrated by the United States in order to undermine Afghan government's abilities in maintaining security and pave the way for keeping its soldiers in the country beyond 2014
.

Speaking on the condition of anonymity, the senior Afghan official said the idea that the US may have been involved in the attacks came from probes and the "pattern of the attacks," which suggest that "insurgent-style assaults" often took place shortly after US drone strikes which left civilians dead in other areas.
He added that such attacks might have been
aimed at distracting attentions from the civilian casualties caused by the US drones
.
US officials have rejected the claims as "ludicrous."
Senior US commander in Afghanistan General Joseph F. Dunford Jr. has claimed, "We have spent 12 years trying to bring peace and stability to Afghanistan in the face of threats from terrorist and insurgent networks."
Washington has been pressuring the government in Kabul to sign the so-called Bilateral Security Agreement, which allows thousands of US soldiers to stay in the war-torn country after the planned 2014 withdrawal.
Karzai says he would not sign the deal if Washington does not guarantee peace in Afghanistan.