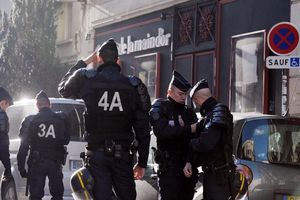 Police in France have raided properties linked to controversial comedian Dieudonne M'Bala M'Bala as part of a fraud inquiry, French media report.
They swooped on several properties owned by Dieudonne as well as the Main d'Or theatre in Paris, where he has staged some of his shows.
He is suspected of a fraudulent declaration of bankruptcy, money-laundering and abuse of company assets.
The government has vowed to make him pay fines for hate speech.
According to French media, he has transferred 400,000 euros (£331,000; $547,000) to Cameroon since 2009 while failing to pay fines totalling 65,000 euros.
Dieudonne has been convicted six times of hate speech against Jews and popularised a gesture called the "quenelle", widely regarded as an inverted Nazi salute.
Police have detained a man suspected of distributing a photo of a quenelle being made outside a Jewish school in the south-western city of Toulouse, where an Islamist gunman shot dead three small children and a teacher in March 2012, AFP news agency reports.

Comment: The man who has been arrested for "distributing the forbidden photo" is French blogger 'Joe le Corbeau', who included the photo in a blogpost for reference.


The man who was detained near Marseille on Tuesday is also suspected of distributing another image of a quenelle outside the Toulouse flat of the killer, Mohammed Merah, who died in a police siege.
Comment:
The dark irony of this situation is that these people made this gesture at these sites to show that they do not believe the official story of the events (
unsurprisingly
) that took place there, not to jeer at the Jewish victims of these acts of terrorism.
Youths could be seen making quenelles at a rally against President Francois Hollande on Sunday in Paris, which was organised by small, mainly right-wing organisations.

Comment: Actually, 120,000 people turned out, and a wide cross-section of French society was present.


Interior Minister Manuel Valls accused Dieudonne of trying to bankrupt himself earlier this month in order to avoid paying the fines.
Police questioned the comedian last week after bailiffs reported being fired on with rubber bullets at his house.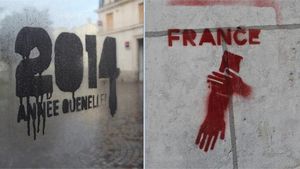 The bailiffs had said they could not ascertain who had opened fire but a weapon was later found during a search of Dieudonne's property.
Earlier this month a ban on Dieudonne's one-man show
The Wall
was upheld by France's highest court.
Interior Minister Manuel Valls had taken strenuous steps to ban the show. Initial performances in Paris contained sketches including the performer miming urination against the Western Wall in Jerusalem.
Dieudonne was also recorded referring to the Holocaust in remarks about a Jewish journalist and mocking commemoration of the Nazi extermination of the Jews.
When he announced a new show devoted to Africa, this was also promptly banned by the authorities in Paris.
Last week, French footballer Nicolas Anelka, who plays for the English premier league football club West Bromwich Albion, was charged by the Football Association (FA) over making a quenelle gesture after scoring a goal in a match last month.
The footballer faces a minimum five-match ban from the FA if found guilty of making a gesture that was "abusive and/or indecent and/or insulting and/or improper".