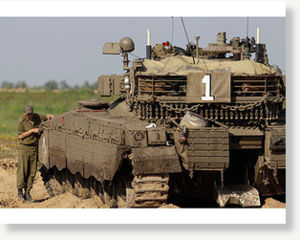 Military sources believe relative truce in south will be followed by wide-scale confrontation. 'Hamas has been busy rebuilding its forces for the past two years, and this can only mean we're facing an all-out clash,' says senior officer
One round of escalation may be over, but the IDF is already preparing for the next one - despite sporadic rocket fire from the Gaza Strip on Sunday,
military officials estimate that the relative lull will be followed by a large confrontation at the Strip.
Last month, after terror organizations fired Grad rockets at Beersheba and Ashdod for the first time since Operation
Cast Lead
, voices within the military echelons claimed Israel's reaction was too restrained. This time, however, the voices are different.