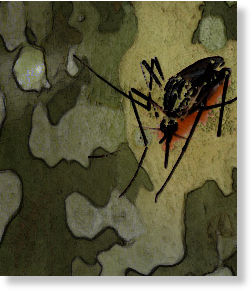 With little fanfare on July 13, Florida officials released the findings of a Centers for Disease Control (CDC) study conducted recently in the Key West area revealing that about 10 percent, or 1,000 people, of the coastal town's population are infected with the dengue fever virus.
While the July 13 release made little mention of it, the CDC study was provoked by an earlier 2009 report that a woman in New York State, who had returned from a Florida Keys' visit, had contracted dengue fever. Within a few weeks of this initial report, two additional cases were discovered in people who had returned from Key West. Over the next three months of 2009, an additional 26 cases were identified, all tied to visits to the town.
Because of these reported cases, the Florida Keys Mosquito Control District conducted greatly increased aerial spraying to control mosquitoes. Following the spraying, a small amount of other cases were reported, including that of a 41-year-old Key West man who found blood in his urine and had severely aching joints. Following these additional reports, the CDC launched its study of antibodies in Key West residents and found that 5 percent of the town's residents have been exposed to the dengue virus. Said CDC dengue expert, Dr. Christopher J. Gregory, "The best estimate from the survey is that about 5 percent of [residents] was infected in 2009 with dengue." Gregory also stated, "We have known for a while it is a possible risk, but this outbreak shows it is more than possible: It is something that did happen and could happen again."