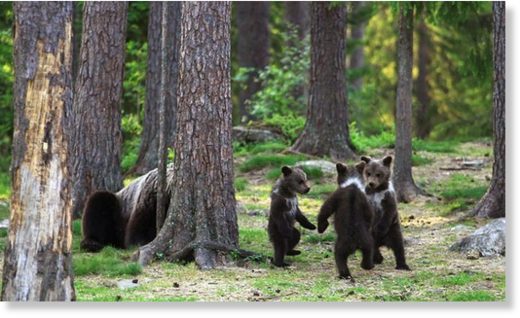 "The cubs behaved like little children."
Valtteri Mulkahainen, a teacher and keen photographer from Sotkamo, Finland, likes spending his free time taking photographs and has been exploring and capturing the beauty of Finland's countryside and wildlife.
In June 2013, while exploring the Finnish taiga near the town of Martinselkonen, Valtteri was in a shelter about 50m (164ft) away from a clearing in the forest when he noticed a bear and three small cubs coming into the clearing, a moment that turned into an unique and magical experience for the photographer.
"The cubs behaved like little children,"
he said
.
"They were playing, and even started a few friendly fights. I felt like I was on a playground in front of my house, where small children frolic around. That's how much they reminded me of little children. At one point, the three of them got up on their hind legs and started pushing each other. It was like they were dancing in a circle."
From Valtteri's sheltered vantage point the bears were unaware of his presence and he had a perfect view of the cubs' playful antics and said:
"I photographed the cubs with the bear all evening and all night."