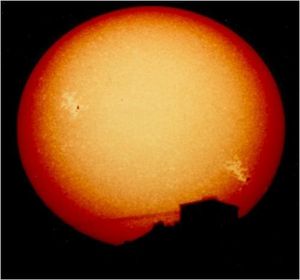 When we look at the Sun we cannot penetrate beyond its outer surface, the photosphere, which emits the photons that make up the radiation we can see. So how can we find out what is inside it?
Imagine a metal box. If it is a long way from us we cannot tell whether it is full or empty. Yet if we can tap it, the sound that we hear will tell us about its contents: it will be deeper if the box is full, and hollow-sounding if not. The human brain can tell one substance from another, and gain information about what it is, from the sound it makes.
Seismology works in a similar way: the way that waves travel through the interior of an object tells us about its structure. The "signature" of sound waves as they travel through a particular type of material is unique, and it changes as the material changes. This makes it easy to tell whether a sound is travelling through air or water, for example. The science of Seismology is not earthbound -- it has travelled to the stars. The methods it uses to gather information about stars are basically the same as they are on Earth. The first sound to be heard was the "song" of the Sun, because it is near to us and therefore easy to observe. That is how Helioseismology was born.