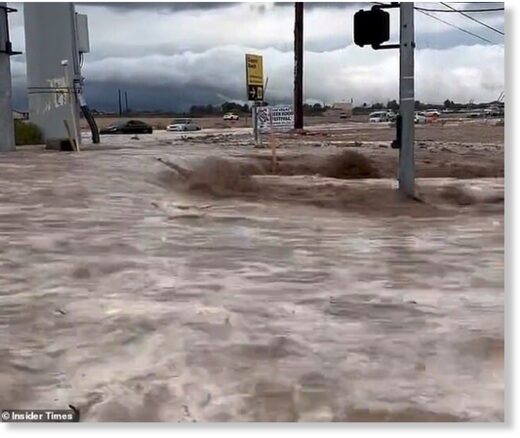 Flash floods have caused severe flooding on the iconic Las Vegas Strip this weekend.
Fast moving thunderstorms and heavy rain hit the city and surrounding southern Nevada on Friday leaving cars stranded and thousands without electricity.
By Friday evening, more than 2 inches of rain had fallen in the Rhodes Ranch are, and over 1.5 inches was recorded at South Point and at the intersection of Cheyenne Avenue and Las Vegas Boulevard.
Las Vegas recorded 0.88 inches Friday, which is nearly three times their entire September monthly average and was their wettest September day in 11 years.
By Friday evening more than 4,000 people were without power in the Las Vegas Valley, as a result of 30 outages, according to NV Energy.
The city is braced for further downpours and remains under flash flood warning into Saturday night.
Dirty flood water swallowing up the Strip, passing underneath casinos and under the famous High Roller Ferris wheel on Saturday.
Major intersections including Las Vegas Boulevard and Cheyenne Avenue became blocked after drivers got stuck as the roads quickly flooded on Friday.
Around 700 flights were delayed and more than 100 were canceled due to the adverse weather conditions.
The National Weather Service warned the public not to try to cross flooded roads as residents and visitors attempt to grapple with the fallout.
Despite one driver being rescued from their car and multiple others abandoning their vehicles a spokesman for the city said there were no reports of major incidents.
Flood watches on Saturday have been extended from Nevada into southwestern Utah, northwestern Arizona and northeastern California.
The likelihood of further strong thunderstorms could trigger more flash flooding and excessive runoff, the National Weather Service warned.
'Emergency management reported ongoing, extensive flash flooding across the Las Vegas Valley from rain that fell earlier in the evening,' NWS Las Vegas wrote on Twitter.
'Throw that frozen pizza in the oven for dinner,' NWS Las Vegas said.
'Please do not put food delivery drivers (& local first responders by extension) at risk.'
Storms are set to move farther north into Northern Utah and southeastern Idaho on Sunday.