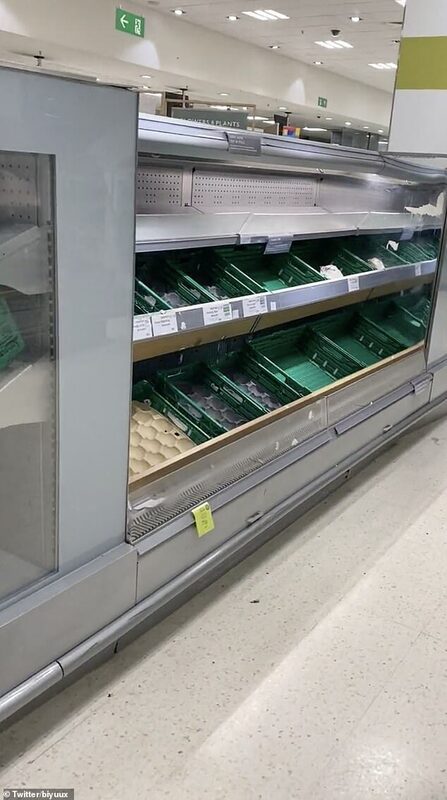 Shoppers are reporting empty shelves at
Waitrose
amid reports that egg shortages will continue until the autumn despite the threat of
avian flu
outbreaks falling.

Comment: Note that Waitrose is one of the higher end supermarkets where shoppers expect a particularly high level of quality and service, this shortage will not go down well with customers, and so one would presume that it's not for lack of trying that the supermarket was out of stock.


Availability for eggs remains patchy and varies from one retailer to the next.
But even shoppers who do find they are able to procure a pack of eggs might be in for a surprise when they see the shelf price.
Customers attempting to purchase eggs from
Tesco
online recently were greeted with a message notifying them that the product is 'subject to availability'
and they 'may receive a different box' to that which they ordered.
The supermarket's medium free range eggs were reportedly out of stock online in packs of six.
Meanwhile, the average price of
a dozen eggs shot up by 74 pence - a 30 per cent increase - in the 12 months
to March 2023, from £2.43 to £3.17, official figures from the Office for National Statistics show.
Comment:
The price of eggs is considered to be more volatile than other produce, but even official data - which is at the lowest end of estimates - shows that food costs are soaring, across the board, and across much of the planet:
Food prices up 10% in Australia since last year
Six large free-range eggs now cost £2.50 at Waitrose, or 41.7p each.
In May last year, they cost £2.10. So a rise of 40p - or 16 per cent. In Lidl, large free-range eggs are considerably cheaper - £1.65. A year ago, they were £1.15, up 50p or 43%.
On average,
the price of eggs has risen by 30 per cent in a yea
r.
Sainsbury's and Tesco customers have reported being unable to buy eggs for months, while a branch of Lidl had reportedly allowed customers to buy up to only three boxes at a time.
Meanwhile, a branch of pub chain Wetherspoons was reportedly
serving full English breakfasts without eggs
.
Several factors, including food shortages, rising energy costs, and bird flu
, are contributing to the ongoing egg shortage.
A spokesman for the British Free Range Egg Producers Association said: 'Egg shortages have been an ongoing issue in the major supermarkets and some food businesses for many months.
'This is primarily as a result of
poor farm gate prices in 2022 which caused egg producers to exit the industry

or pause production temporarily
.

Comment: Which means these shortages will likely be ongoing for more than a few months.


'The national free range egg flock
is still one million hens down on this time last year which equates to more than 350 million eggs a year not being laid
.
'There are signs that more hens are being housed but
production cannot be turned on and off like a tap - it takes months for chicks to be ordered, hatched and reared to an age when they can begin laying
.'
A spokesperson for Waitrose said: 'We're really sorry if some customers weren't able to get everything they wanted. We've fixed the cause of the problem, and have regular daily deliveries going to all our branches.
'Many shops now have good availability, and - while
we are seeing very strong demand for eggs
- we're addressing localised issues as quickly as possible.'