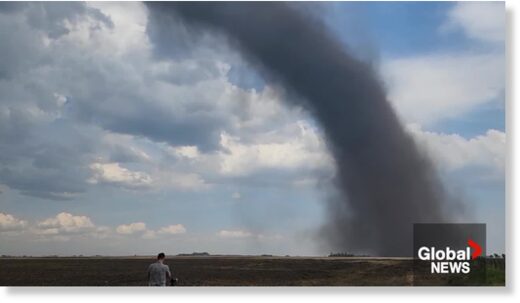 A weak tornado was seen east of Red Deer in central Alberta Wednesday afternoon.
Late in the afternoon, Environment Canada meteorologists tracked a severe thunderstorm that was producing a tornado north of Stettler.
The weather agency said its preliminary classification shows it was a landspout.
"So there are two different types of tornadoes — we have a landspout tornado and a supercell tornado," said Environment and Climate Change Canada meteorologist Jesse Wagar.
She said landspouts are twisters triggered by thunderstorms that develop quickly, and are generally smaller and weaker than supercell tornadoes.
The National Oceanic and Atmospheric Administration describes a landspout as a "tornado with a narrow, rope-like condensation funnel that forms while the thunderstorm cloud is still growing and there is no rotating updraft — the spinning motion originates near the ground."
Wagar added they are often brief because they're not driven by the internal thunderstorm dynamics seen in supercells.
"We did have both environments in Alberta today," Wager said Wednesday.
Wagar said the difference comes down to the amount of energy available, what is happening in the lower levels of the air, and how much rotation is occurring in the storm clouds.
She added that regardless of what type it is, seeing one can be quite a fright.
"I know when you're looking at a tornado, it doesn't really matter what the classification is.
The twister near Stettler was detected just after 4:30 p.m. The thunderstorm was moving north at 10 km/h through Stettler County and communities in the path included Donalda, Environment Canada said.
Storm chasers in the area reported seeing the tornado north of Stettler near Highway 850, picking up a lot of dirt from farmers fields and becoming visible from several kilometres away.
They said it appeared to fizzle out around 5 p.m. Environment Canada's tornado warning was dropped around that time.
The weather agency had been issuing severe thunderstorm watches and warnings all day, saying conditions were favourable for the development of dangerous thunderstorms that may be capable of producing strong wind gusts, damaging hail and heavy rain.
Thunderstorms developed in the Rocky Mountain foothills earlier in the day and were expected to intensify as they moved east throughout the afternoon.
Wagar said Environment Canada staff are now working to gather more data but said the landspout classification will likely remain unchanged.
"This was not unexpected," she said. "But we do want to do our due diligence and we will investigate it."
There has been no reports of damage as of Wednesday night.