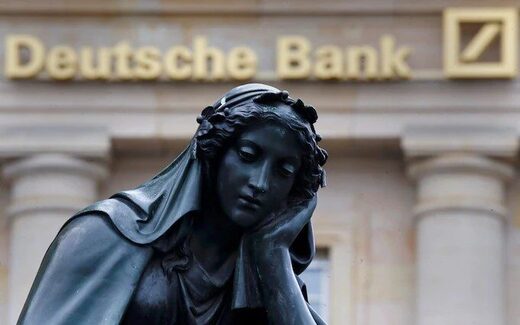 Stocks of Germany's Deutsche and Commerzbank fell sharply on Friday over investors' fear over the health of the European banking sector.
Deutsche Bank shares plummeted over 14% on early trade on Friday as borrowing costs surged over increased financial risks following the collapse of major banks in the past few weeks
, spreading heightened fear over the future of the banking sector, AFP reported.
The stock value of Germany's biggest lender rebounded almost 6 percent on the Frankfurt Stock Exchange, closing at 8.54 euros.
The cost of the bank's debt insurance against default risk fell as investors' trust in the financial sector dropped. The collapse of US'
SVB
and two other banks, in addition to the chaotic takeover of
Credit Suisse
by
UBS
- enforced by the Swiss government - left markets in turmoil.
Commerzbank, considered to be a close rival to Deutsche bank, also witnessed an 8.5 percent drop
in market value in early trade - only recovering close to 3 percent of stock value closing off at 8.88 euros.
The impact of Duetche's falling stocks
spread to the UK and France, with BNP Paribas and Societe Generale witnessing tumbling stocks
during day trade. In attempts to ensure market investors regarding the banking sector, German Chancellor Olaf Scholz said that the lender "modernized and organized the way it works. It's a very profitable bank. There is no reason to be concerned," adding that the EU's banking sector was "stable" and is under strict regulations and rules.

Comment: They were saying the same stuff before the crash of 2008; and from which economies never really recovered.


Scholz's remarks came following an EU leader's summit in Brussels on Friday.
In a failing attempt to regain investors' trust in the bank, Deutsche Bank revealed on Friday that it will cash out $1.5 billion in tier 2 bonds before maturity.
This is not Deutsche's first crisis
, as the bank was struck with a financial crisis after it attempted to compete with US banking giants pre-2008 crash, which left the bank vulnerable due to the spreading of resources to a market where it failed to compete.
However, the bank, which recorded its highest annual profit last year in 16 years, regained its stable position following deep organizational restructuring, which
included slashing thousands of its workforce
.
Despite the high impact of rate hikes on the banking sector,
further rate rises were announced earlier - leaving the banking sector more vulnerable to money outflow
.
Contagion fear
Earlier on Friday, shares in European banks sank on Monday despite a buyout of Credit Suisse by Swiss UBS aimed at averting a global banking crisis.
The Stoxx Europe 600 Banks index for the sector was down more than 5% in morning trades, with declines at French behemoths BNP Paribas and Societe Generale of around 7% and Standard Chartered of about 5%.