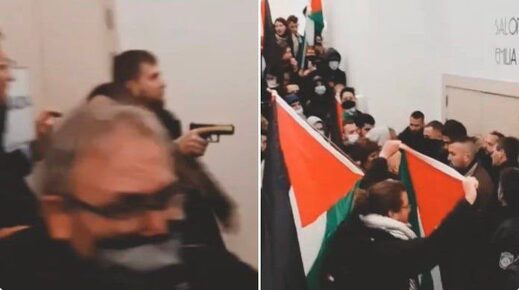 The Spanish students were protesting against Israeli crimes while the Israeli Ambassador, accompanied by her security detail, was giving a lecture at a university in Madrid.
A guard wielded his gun on a university campus in Spain's capital Madrid on Friday at students protesting against the crimes of the Israeli occupation.
Dozens of Spanish students held protests at Complutense University where the Israeli Ambassador to Spain, Rodica Radian-Gordon, was giving a lecture in one of its halls.
The demonstrators raised Palestinian flags, chanted slogans in support of the Palestinian cause, and denounced the crimes of the Israeli occupation at the hall's doorway before the Israeli agents escorted the ambassador out, during which one of them held his gun against the from point blank.

Comment: The footage:



According to the Spanish newspaper
El Salto Diario
,
"Some people with Arab names or with a background of activity in support of the Palestinian cause," who have previously obtained tickets to the lecture were surprised upon arrival that "their names were marked, preventing them from entering."
It is noteworthy that
on the same day, Barcelona Mayor ​​Ada Colau announced that the Catalan city has decreed the
suspension of relations with the Israeli occupation
and all of "Tel Aviv's" institutions
.
The decision, according to media reports,
has been adopted "until the Israeli authorities put an end to the systematic violation of human rights against the Palestinian population."
"The mayor has been active against Israel for years, and this step comes after a petition that garnered the signatures of 4,000 residents and 100 organizations supporting Palestinians called for the boycott of Israel," Israeli media claimed.
The mayor sent a letter to Israeli occupation Prime Minister Benjamin Netanyahu to inform him of the temporary suspension of all relations between the Catalan capital and "Tel Aviv",
including the twinning agreement signed with "Israel" 25 years ago
.