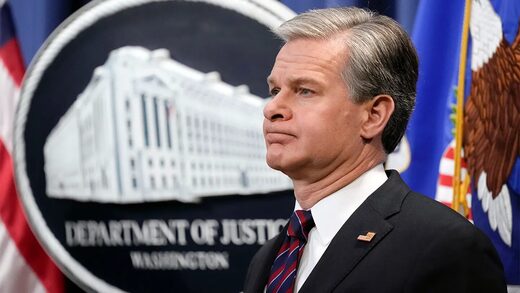 House Judiciary Committee Chairman Jim Jordan subpoenaed FBI Director Christopher Wray on Friday, compelling him to turn over documents and communications related to the FBI's "misuse of federal criminal and counterterrorism resources" to target parents at
school board meetings.
Fox News Digital first reviewed the subpoena, which compels Wray to turn over documents to the committee at 9:00 a.m. on March 1.
The subpoena compels Wray to produce all documents referring to meetings with U.S. attorneys' offices in accordance with Attorney General Merrick Garland's Oct. 4, 2021 memo, which directed the FBI to partner with local law enforcement and U.S. attorneys to identify parental threats at school board meetings against faculty and "prosecute them when appropriate."
Jordan also subpoenaed Garland and Education Secretary Miguel Cardona for documents related to the same matter.
The subpoena for Wray also demands documents related to the Justice Department's task force that focused on identifying school board threats, and the FBI's role as a member of that task force.
The subpoena also requires Wray to turn over all documents related to "both formal and informal recommendations" created or relied upon by FBI employees relating to meetings with U.S. attorneys offices, as well as "all documents and communications referring or relating to the EDUOFFICIALS threat tag."
Wray is also required to produce "all documents and communications sent or received by the following individuals referring or relating to FBI investigations of school board threats: Carlton L. Peeples; Jay Greenberg; Calvin A. Shivers; Brian M. Cohen; Timothy R. Langan Jr.; and Kevin Vorndran."
Fox News is told those individuals are FBI agents that were on the initial "EDUOFFICIALS" threat tag emails.
The FBI confirmed receipt of the subpoena to Fox News Digital on Friday.
"As Director Wray and other FBI officials have stated clearly on numerous occasions before Congress and elsewhere, the FBI has never been in the business of investigating speech or policing speech at school board meetings or anywhere else, and we never will be. Our focus is and always will be on protecting people from violence and threats of violence," an FBI spokesperson told Fox News Digital. "We are fully committed to preserving and protecting First Amendment rights including the right to free speech."
The spokesperson added: "Attempts to further any political narrative will not change those facts."
The FBI spokesperson told Fox News that the bureau "recognizes the importance of congressional oversight and remains fully committed to cooperating with Congress's oversight requests consistent with its constitutional and statutory responsibilities."
"The FBI is actively working to respond to congressional requests for information - including voluntary production of documents," the FBI spokesperson said.
Jordan and committee Republicans have been reviewing whistleblower information that the White House "colluded with the National School Boards Association to manufacture a pretext for the use of federal law enforcement authorities against parents" since 2021, and are continuing the probe — this time, with subpoena power.
Whistleblowers told Jordan that the FBI labeled dozens of investigations into parents with a threat tag created by the bureau's Counterterrorism Division to assess and track investigations related to school boards.
One whistleblower told Jordan that the FBI opened investigations with the "EDUOFFICIALS" threat in every region of the country and relating to all types of educational settings.
In one investigation, FBI officials interviewed a mom for allegedly telling a school board member "we are coming for you." The person reported the mother because she belonged to a "right wing mom's group" called "Moms for Liberty" and because she is a gun owner. FBI officials eventually determined this mom was not a threat.
In another investigation, Jordan said FBI officials interviewed a father opposed to COVID masks. The person who reported the father did so because he supposedly fit the bill of an "insurrectionist" and "rails against the government" and "has a lot of guns and threatens to use them" - claims which the person later admitted they had "no specific information or observations of ... any crimes or threats."
It was 2021 when Attorney General Merrick Garland
sent a memo
to the FBI, office for U.S. attorneys, and the DOJ's Criminal Division to notify officials that the agency would "use its authority and resources" to identify threats at school board meetings against faculty and "prosecute them when appropriate."
Garland's memo said the FBI would partner with local law enforcement and each U.S. attorney to convene meetings with federal, state, local, tribal and territorial leaders in each federal district. Garland said the meetings would "facilitate the discussion of strategies for addressing threats against school administrators, board members, teachers and staff, and will open dedicated lines of communication for threat reporting, assessment and response."
The memo also announced that the FBI's involvement would help to "determine how federal enforcement can be used to prosecute these crimes."
The memo was sent after the National School Boards Association (NSBA) sent a letter to Garland citing instances, including nonviolent behavior that did not include threats, but that was deemed disruptive. The NSBA had called for the use of measures, including the Patriot Act, which is typically used to address terrorism.
Their second letter said they "regret and apologize for the letter," stating that "there was no justification for some of the language" they had used.
Jordan, in November after the midterm elections when it became clear Republicans would take the majority in the House of Representatives, penned a letter to Wray and Garland, urging them to comply with his past requests on the matter, and warned them that if ignored he would resort to compulsory measures to obtain necessary information and testimony.
"Chairman Jordan is rushing to fire off subpoenas only two days after the Judiciary Committee organized, even though agencies already responded in good faith seeking to accommodate requests he made," Ian Sams, White House spokesperson for oversight, told Fox News. "These subpoenas make crystal clear that extreme House Republicans have no interest in working together with the Biden Administration on behalf of the American people — and every interest in staging political stunts."
Last week, the White House said it will work cooperatively and in "good faith" with Jordan during his investigation on the matter, after he said the White House has "not complied" with long-outstanding requests for information and documents.
The White House, though, reiterated President Biden's commitment to ensuring teachers can do their jobs "free from violence, threats, and intimidation."
Jordan has already formally launched a number of high-level investigations in his first month as committee chairman.
Just this week, Jordan notified Wray that the committee has opened an investigation into Charles McGonigal — the
former FBI special agent in charge
of the counterintelligence division who was recently indicted on charges of money laundering and other counts stemming from his "collusion" with a Russian oligarch.
Jordan has also successfully established a new Judiciary subcommittee - the Select Subcommittee on the Weaponization of the Federal Government - which he will chair.