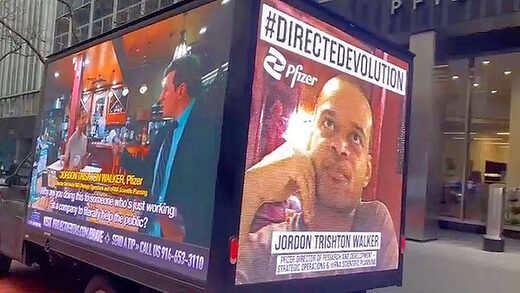 Project Veritas recently published an undercover video featuring a Pfizer honcho discussing 'mutating' COVID virus
Project Veritas taunted Pfizer with an LED truck parked outside of the drug manufacturer's New York City headquarters on Tuesday after the investigative journalism group put a spotlight on alleged
plans to mutate COVID
.
Last week, Project Veritas, a right-wing guerilla journalism outfit, published footage of a man described as Pfizer director of research and development Jordon Trishton Walker telling an undercover Project Veritas journalist that the company was exploring plans to "mutate" the
COVID virus
themselves through "directed evolution."
"That is not what we say to the public," Walker said during the video that has been viewed more than 27 million times on Twitter alone.
Walker was also heard explaining that they're "not supposed to do gain-of-function research" but instead uses the term "directed evolution" which he said is "very different."
"It's pretty good for the industry to be honest, it's bad for everyone else in America," Walker said in the undercover video.
In a follow-up video, Walker became overcome with emotion when confronted by Project Veritas founder James O'Keefe, insisting he's a "liar" who was simply trying to impress a date. It escalated into chaos as Walker attempted to have O'Keefe and his team arrested and destroyed their iPad which O'Keefe played Jordan his controversial comments.
An LED truck rented by Project Veritas and parked outside of the Pfizer world headquarters in Manhattan on January 31, 2023. (Project Veritas)
Project Veritas shared an image on its social media accounts Tuesday of an LED truck airing the video directly outside of
Pfizer's offices
.
Pfizer responded to Project Veritas with
a lengthy statement
on Friday, denying that it has conducted gain-of-function or directed evolution research but instead said "Working with collaborators, we have conducted research where the original SARS-CoV-2 virus has been used to express the spike protein from new variants of concern," later adding "We then make this data available through peer reviewed scientific journals and use it as one of the steps to determine whether a vaccine update is required."
Pfizer did not immediately respond when asked for comment on Project Veritas' LED truck.
Brian Flood is a media reporter for Fox News Digital. Story tips can be sent to brian.flood@fox.com and on Twitter: @briansflood.