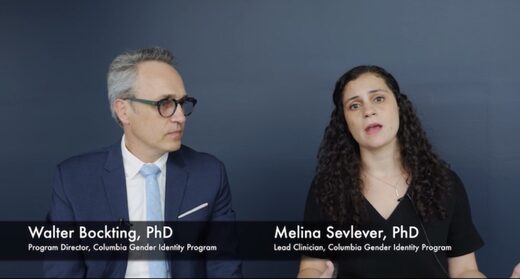 Hospitals across the country
have
established gender clinics for children and adolescents
with the idea of "helping" minors transition into a new, assumed gender identity. Columbia University Medical Center's
Gender Identity Program
focuses on the psychological aspects, making the claim that the primary stresser faced by gender non-conforming youth is due to a lack of societal acceptance. The practice for children and teens "offers services ranging from psychotherapy and medication management to hormone therapy and surgery."
A promotional video put out by Doctors Walter Bockting and Melinda Wald, who lead the charge, discusses how best to "affirm" "trans" children and teens.
Botking is a
past president
of the World Professional Association for Transgender Health, which has
eliminated the age barriers for medicalized gender transition
and identified "
eunuch
" as a gender identity.
The doctors at Irving Medical Center in the Washington Heights neighborhood of Manhattan state that they "are here to help" children and teens in "finding an identity that is represenative of who [they] are" and that it's "not always easy."
They state that finding this identity is "especially challenging for those who identify in a way that does not conform to traditional views of gender or sexuality."

Comment: Children are children for a reason. Their identity is fluid and constantly developing as they grow and learn to adapt to their familial and social environment, and is not solidified until adulthood.

Children should NOT be given the responsibility to make permanent, life-changing decisions that they might regret. Just like we don't allow kids to drive cars, get tattoos, drink alcohol in clubs or take out mortgage loans. They are simply incapable of making such decisions.


"The Columbia gender identity program provides evidence based care to children, adolescents, and adults who identify as transgender, gender non binary or gender non conforming," Wald states.
"Transgender gender non conforming, people typically face two sources of stress," Botking says.
The first is a cause of society not understanding the person's alternative gender identity, while the second stems from feeling that their internal self and their body does not match up, which includes the expectations placed on that individual by a misinformed society.

Comment: The society is not "misinformed". There are two biological sexes, period! Any gender other than "male" or "female" is an imaginary construct.


"And so our program is equipped to help young people and their families with both sources of stress," Botking says.
Wald explains that their gender identity practice will affirm the individual, and will not question their assumed identity.
She states that they will "celebrate gender diversity and gender minorities," indicating that if a child or teen comes in feeling like they are the opposite sex, the doctors will agree with them.

Comment: In other words, they affirm the delusions of children so that they can butcher them on the operating table.


"In our clinic, one of the things that we emphasize is creating an affirming space, where we respect and celebrate gender diversity and gender minorities. We know especially in the case of youth who identify as transgender or gender non binary or gender non conforming, that family acceptance is incredibly important," Wald says.
Then the doctors, Wald states, get to work on the families.
"When we involve families in treatment, we're able to provide support for family members who may be struggling with complicated feelings around their child or their family members transition,"
Wald says.

Comment: They indoctrinate the families to accept the child's delusions. Caregivers who accept and go along with this should be penalized for neglect and abuse.


To their credit, Botking and Wald believe that "transgender care is about more than hormones and surgery." But they Botking says that the key is "really about living your life as a transgender person or as the gender that you perceive yourself to be, and helping the family and the environment to adjust to that."
"Our main goal at the Columbia gender identity program is to meet each person wherever they are on that path," Wald says, meaning their "gender journey," "and to help as they become the unique individual that they've always known themselves to be."

Comment: Permanently mutilate children and make massive amounts of money doing so.


Bockting and Wald are "known across the country for competent and sensitive counseling and care geared to the needs of transgender, nonbinary, and gender nonconforming individuals and their families." Ward
touts her expertise
in treating "adolescents and adults who have pursued medical interventions, such as hormone therapy and gender affirming surgery, providing support and guidance throughout the course of these medical procedures."
But for Bockting and Wald, the diagnosis and the treatment are already decided before they see a patient at all. The gender clinic site states that "Everyone's journey in defining their gender identity and sexual orientation is unique and we are here to provide affirming support at every step of the way."
"Affirmation" is the practice of taking a child or teen at their word about their gender identity, working to further and deepen that identity, and not to question whether or not the minor could actually be fine existing in their own body per their own natural, natal sex.

Comment: Given that gender dysphoria is a medical psychiatric disorder, these doctors are literally affirming mental illness.


In fact, the site states that "the majority of transgender, nonbinary, and gender nonconforming children, adolescents, and adults are resilient in the face of prejudice and lead healthy, happy lives," meaning that it is societal prejudice, and not perhaps gender dysphoria itself, that create issues for children and teens who come to believe that their bodies do not reflect their true selves.
Bockting and Wald's promotional materials say that the "significant mental health concerns" faced by some trans youth are due to the "stigma attacked to noncomformity in gender identity, gender expression, and sexual orientation," and that it is this stigma that can lead to "anxiety, depression, and suicidality."
What Bockting and Wald believe is most important in their practice is to be "focused on instilling pride and celebration of gender diversity." They say that their goal is to help children, teens, and their families by "facilitating identity development, social support, and self-acceptance across the lifespan."

Comment: Why is the medical system trying to instill pride and celebration of mental illness instead of helping people to overcome it?


This means that there is to be no questioning of whether or not a child or teen could best be served by being affirmed in the natural body, instead focusing entirely on the new, chosen gender identity, and to tell children and teens to be proud of who they want to be, not who they are.
When parents have a religious objection to gender identity affirmation, Botking and Wald try to education those parents on why their religious concerns are nothing compared to the need to "affirm" their child as wanting to present as the opposite sex.
"We work with families from various cultural and religious backgrounds," the gender clinic guidance states, "many of whom are struggling with understanding or accepting their child's nonconformity in gender identity, gender expression, or sexual orientation, and who may be unsure how to proceed. We provide education related to gender dysphoria and thoughtful guidance related to questions that can arise regarding gender identity and role, including social transition and gender-affirming medical interventions."
That activism doesn't stop with the family, either, Botking and Wald will also dig deeper into the child or teens' life to find other ways to entrench their gender identity. This includes working "collaboratively with schools and other groups and organizations to ensure positive outcomes for individuals who are transgender, nonbinary, or otherwise nonconforming in gender and sexuality."

Comment: This means that they are doing their best to indoctrinate and groom our children, in what amounts to psychological warfare against the most innocent and vulnerable in society.


Services offered include psychiatry, psychiatric drugs, finding the right "gender expression that is comfortable," referral to "gender-affirming medical interventions, such as puberty suppression, masculinizing or feminizing hormone therapy and/or surgery," and other services to deepen and affirm a minor's alternative gender identity.
Puberty blockers and hormones come with their own risks and serious health complications, while surgeries result in sterility, lack of sexual function, and lack of reproductive function.