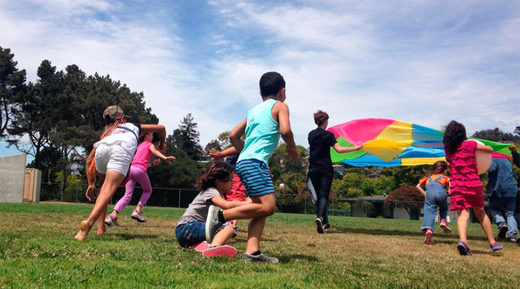 The owner of a summer camp in California that caters to transgender and "gender fluid" children, ages 4 to 12, says she wants to help children feel comfortable with who they are. Critics argue that the camp will only confuse young children.
The Bay Area Rainbow Day Camp in El Cerrito, California, focuses on providing kids with
"a safe space for the exploration of gender identity and expression."
"Our mission is to support gender diverse youth, their families and communities by strengthening self-determination through direct services and programming,"
the
website
says.
Each morning at check-in, campers make their own name tags with the gender pronoun of their choice. Campers are free to change their gender orientation on a daily basis.
Camp founder Sandra Collins said she was inspired to start the camp by her transgender daughter.
"A decade ago, this camp wouldn't have existed. Eventually, I do believe, it won't be so innovative,"
Collins told the
Associated Press
.
"I didn't know you could be transgender at a very young age. But my daughter knew for sure at 2."
Many of the parents of campers say that their child has identified with another gender since they were a very young age.
Molly Maxwell, a mother of one of the campers, said that ever since her child was able to talk,
"I don't remember a time when she didn't say, 'I'm a girl.'"
"Then it grew in intensity: 'I'm a sister. I'm a daughter. I'm a princess,'"
Maxwell told the Associated Press.
"We would argue with her. She was confused. We were confused."
Maxwell has allowed her child to grow her hair long, dress as a girl and even change her name.
Collins said the camp offers children a safe space to become comfortable with their gender identity at an early age.
"A lot of these kids have been bullied and had trauma at school. This is a world where none of that exists, and they're in the majority,"
Collins told the AP.
"That's a new experience for kids who are used to hiding and feeling small."
She also told the
Daily Mail
that the camp only features gender-neutral restrooms,
"in order to teach about gender inclusion and equity."
Collins' daughter, Scarlett Reinhold, 9, who was born a male, said that the camp allows her to be herself.
"I feel comfortable for being who I am and who I want to be,"
Reinhold told AP.
Enrollment in the camp, which reportedly costs $400 a week, has tripled since it opened in 2014. There were 60 children at the camp this year, AP reported. Next summer, the camp plans to expand to another facility in Colorado.
The increased enrollment at the Rainbow Day Camp reflects an increasing number of children who come out as transgender at young ages in gender clinics across the nation.
The Center for Transyouth Health and Development at Children's Hospital in Los Angeles has grown from around 40 patients a decade ago to over 900 patients under the age of 25 enrolled in its program, according to Johanna Olson-Kennedy, the center's medical director.
"I just think there's a lot more openness to the understanding that trans adults start as trans kids,"
Olson-Kennedy told AP.
"When people say, 'Isn't this too young?' my question back to them is, 'Too young for what? How young do people know their gender?' The answer to that is some people know it at 3, and some people know it at 30."
However, critics say the camp pushes young children into making decisions about their gender identity too early.
In June,
three medical experts published an
article
in the
New Atlantis
, arguing that transgender-affirming treatments
"may drive some children to persist in identifying as transgender when they might otherwise have, as they grow older, found their gender to be aligned with their sex."
Quentin Van Meter, the vice president of the American College of Pediatricians, told RT America that the Rainbow Day Camp is
"supporting a delusional state."
"If a person thinks he or she is a dog and you walk them around on a leash, they will feel 'happy,' but that action is supporting a delusional state,"
Van Meter told RT America.
"A truly loving and compassionate response is to get the persons the help and treatment they require to unearth the painful reality that drove them to live in a delusion in the first place. Once the real issue is brought to the surface, the delusional state can resolve. The goal is for the patient to live successfully and identify fully with their natal sex."